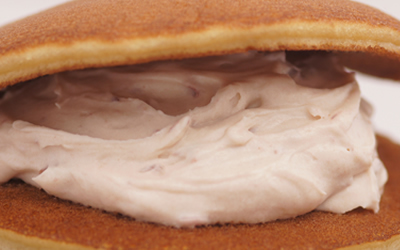 Traditional Japanese Cakes
Our full range of Dorayaki are made by the Wagashi Japanese Bakery, Whom where founded in 1986 as a sister company to Kitya which is based in Tokyo, Japan.
Kitaya has been producing traditional wagashi since the late 1940's by Mr. Eiichi Taguchi and now owned and run by his elder daughter, Emiko. The company has 18 shops in and around Senju, one of the old towns established in the Edo period of Japanese history.
Wagashi Japanese Barkery use only the finest and traditional Japanese ingredients imported from Japan.
Dorayaki a Japanese sweet made of two griddle cooked pancakes offered with the following fillings:
Custard Dorayaki, Red Bean Dorayaki, Matcha Custard Dorayaki, Kuri Dorayaki, Matcha Mascarpone Dorayaki,
Cream Cheese Anko Dorayaki, Chocolate Dorayaki, Strawberries & Cream Dorayaki, Lemon Custard Dorayaki,
Lemon Cheesecake Dorayaki, Red Bean & Walnut Dorayaki.
All Dorayaki are sold in packs of 10, but each Dorayaki is individually wrapped.
For more info and pricing, please download our price list and order form from the link below.